"Progress" Pride Flag by Daniel Quasar (quasar.digital LLC), repurposed by Playable Worlds
Celebrate Our Differences
Pride Month is now in full swing, and we are so happy we've had a chance to bring awareness and support to the LGBTQ+ community. Whether you identify as LGBTQ+ or are part of any other marginalized group, you'll be welcomed with open arms at Playable Worlds. We are committed to ensuring equity for all people, and we don't tolerate harassment or discrimination of any kind.
Celebrating people from all walks of life is vital to us as a company, and more importantly, as humans. After all, at the heart of our company, we are people first.
Before we made any plans for Pride Month, we assembled some of our LGBTQ+ and ally employees. We started with an important question – was this even something that they'd want us to do?
It was essential to us that their voices were heard above all else, and our Community Manager created a plan with their thoughts, feelings, and ideas in mind. If there was anything they'd be uncomfortable with or felt was inauthentic, we wouldn't move forward.
One thing was immediately clear: we all wanted to support and honor the LGBTQ+ community. Even more so, we wanted that support to be more than just words. We wanted to put our words into action.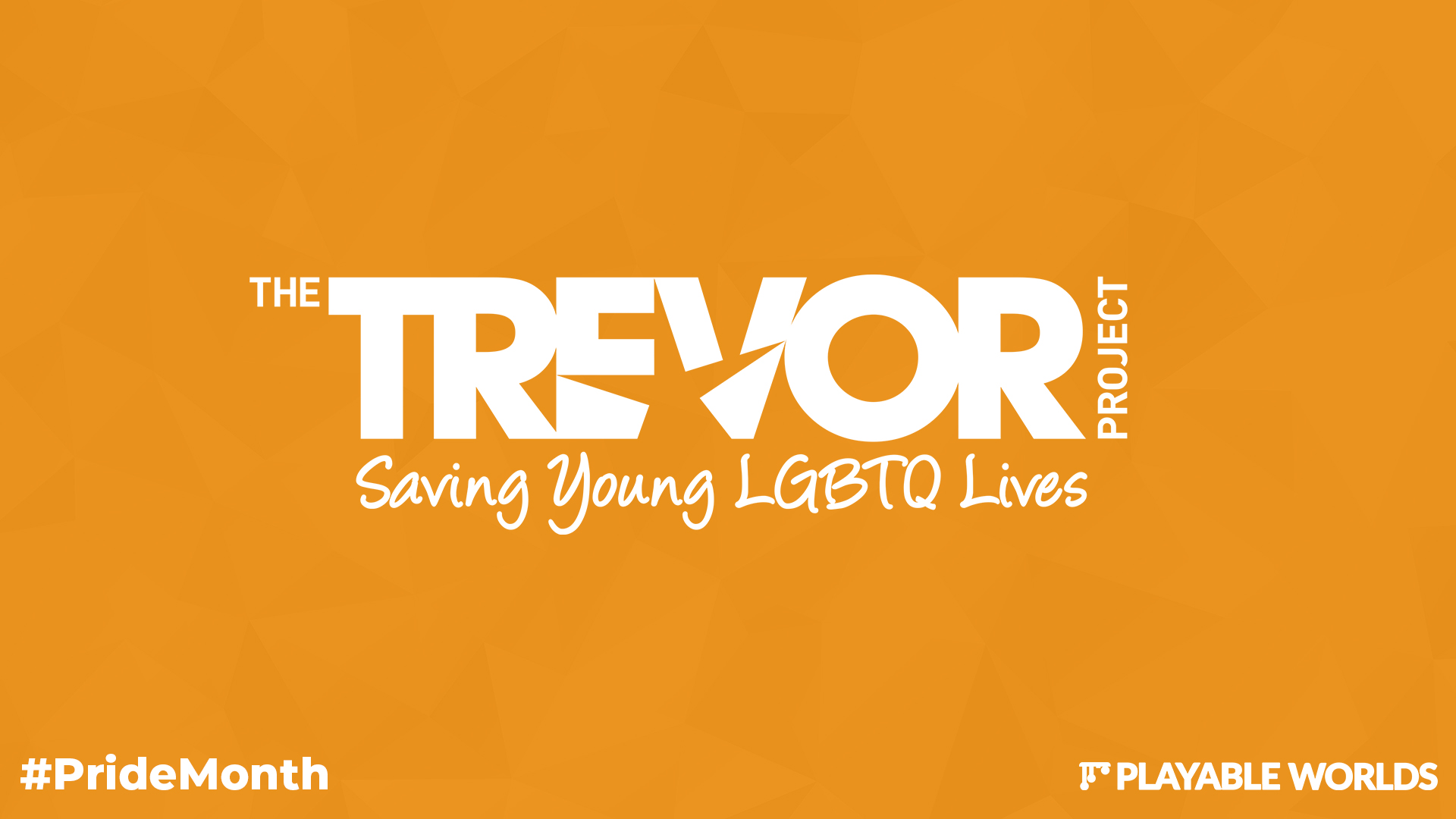 As a group, it was decided that we'd support and bring awareness to the Trevor Project! The Trevor Project provides crisis intervention and suicide prevention services to lesbian, gay, bisexual, transgender, queer & questioning (LGBTQ+) people under 25. It's a program that means a lot to us, so we made a donation to support their important work with LGBTQ+ youth. If you'd like to make a donation or learn more about their organization, check them out here.
Diversity, Equity, and Inclusion
What exactly are diversity, equity, and inclusion?
Well, first let's talk about the differences.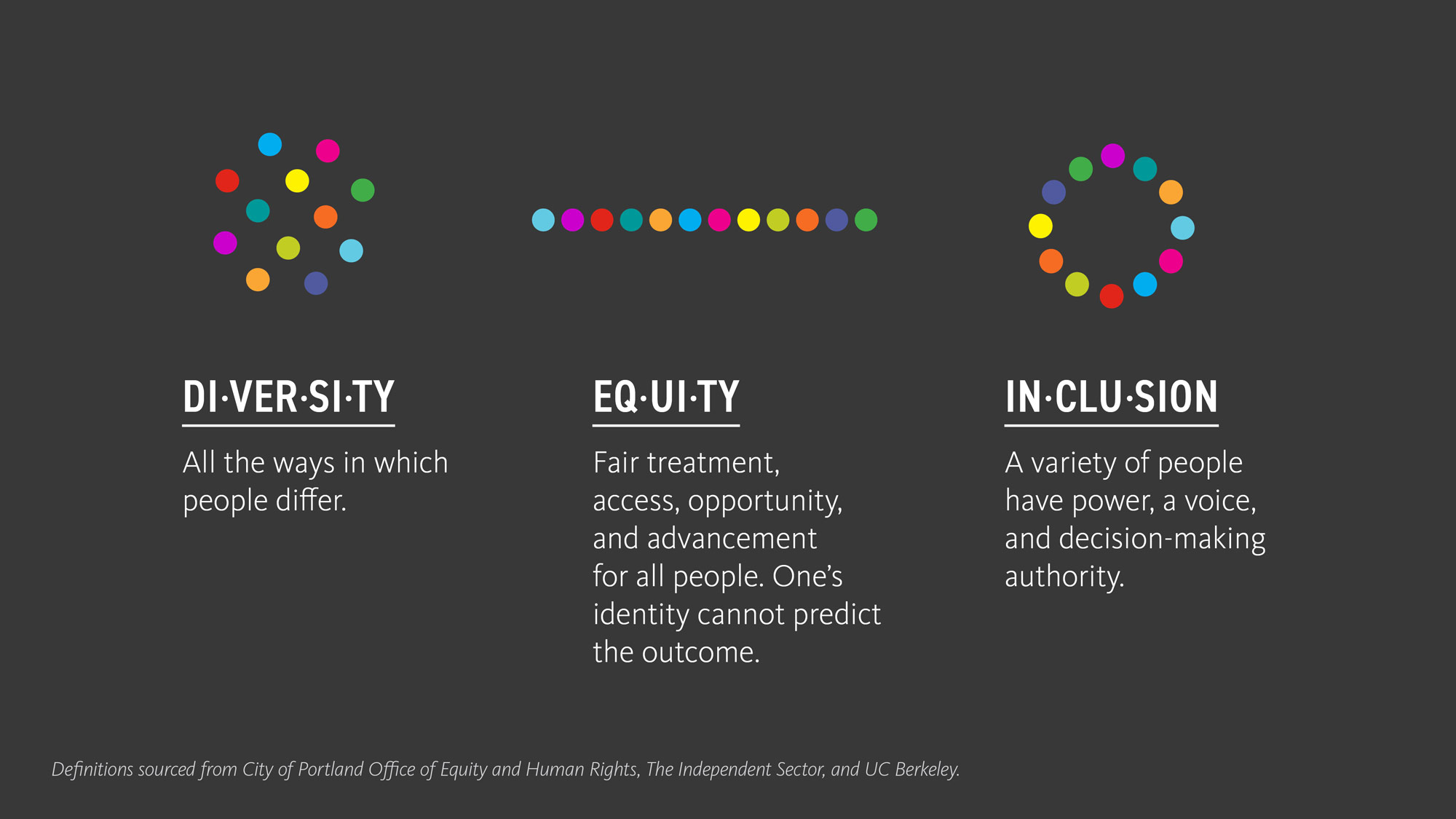 Source: Inclusion by Design: Insights from Design Week Portland; Gensler

Diversity means that your team has people from different backgrounds including (but not limited to) racial, gender, ethnicity, sexual orientation, language, religion, culture, education, age, etc.
Equity ensures fair opportunities and access for everyone on the team, no matter their background.
Inclusion takes that further by making sure that all people on the team are included and their voices are heard. Everyone's differences are welcomed and accepted, they feel valued and have a sense of belonging.
These are short explanations for issues that run much deeper, but hopefully, this helps clarify the distinctions.
Since we began our journey here at Playable Worlds, we have sought to cultivate an inclusive, diverse, and open work environment for everyone. This means making the workplace welcoming for all people, regardless of their background.
A few examples:
When people are first hired, we encourage them to share their pronouns with the team and expect everyone to learn and use them. We even have pronouns added on our teams' bios, if they're comfortable with it.
We hire people from all types of backgrounds. In the gaming industry, there can often be an imbalance of genders and races, and we actively try to mitigate that.
We have family-friendly policies, including a flexible work schedule, so our team members don't have to choose between their job and their family.
Our workplace is a safe and open environment where you can be yourself and feel like you belong (because you DO!) There is no judgment, discrimination, or exclusion here.
Are we saying we're perfect? No way! We're only human after all. But the crucial thing is that we always try to listen, acknowledge issues or concerns, and take steps to solve them – together.
Why Diversity, Inclusion, and Equity Matter
All of these things are not only important from a moral standpoint, but also because they give us new and unique perspectives. We want people on our team that have distinct experiences and see the world differently. A well-rounded team provides fresh viewpoints and ideas. This allows for better communication, collaboration, and the chance to learn from each other. Personal and professional growth and development are huge parts of our goals as a company.
With these differences, we also have the opportunity to create a better product. Given that our players will be from all over the world, and have different genders, ages, races, ethnicities, etc, we should have proper representation within our teams as well. New approaches and viewpoints allow us to push the limits of what we can do with technology and development.
While we aren't ready to share what our sandbox MMO is all about yet, we are always considering how we can create more positive and inclusive experiences in online games. We're taking extra care to think about things like gender, race, sexual orientation, and so much more as we're building playable worlds.
Our differences make us who we are, and they should all be welcomed and celebrated! Happy Pride Month, all!
—
Be sure to follow us on social media for all the latest news and celebrations!